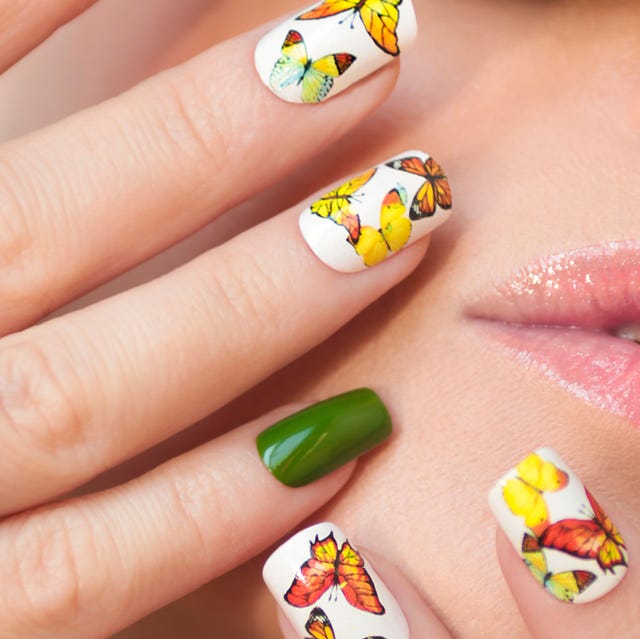 Getty Images
Every now and then I get sucked into an Instagram nail art wormhole, where I stalk chic women who give themselves the most fabulous manicures. I'd be lying if I said I hadn't added tiny brushes and mini pearls to my Amazon shopping cart, determined to copy their exquisite, highly detailed nail art. But then I remember: While there's a chance I might be able to give myself an edgy leopard-print manicure, on the one hand, there is no possibility that my non-dominant hand could accomplish such a task. And so I'm left with plain, single-toned fingernails.
But there's another option. Nail stickers! Not to be confused with pre-teen stickers-on-my-binder, these are elevated stickers. Cool girl stickers. On top of your simple mani or even bare nails, apply a few and watch an ordinary look turn into something people will add to their Pinterest boards for years to come. So whether you're looking for something niche, a classic design, or something out of this world, there is a nail sticker pack that's just calling your name. Below, find 12 of the coolest (and easiest to apply!) nail stickers money can buy.
Advertisement – Continue Reading Below
1
Nail Art Sticker Sheet
Deco Miami
urbanoutfitters.com
$8.00
When life gives you lemons, get a mini sticker-version and put it on your fingernails. Then seal it with a clear topcoat to really make an impact.
2
The Cheat Sheets Nail Stickers
Ciaté London
sephora.com
$18.00
Leopard print? Fruits? Edgy designs? The world is your oyster.
3
Nail Art Adhesive Stickers
I might have aged out of my raver days, but that doesn't mean I can't still allude to that time of my life. These day-glow nail designs are too cool for school.
4
Nail Art Set
Base Coat
nordstrom.com
$25.00
Say it with a sticker. What would I write out on my nails, you ask? "R U A" followed by the Gemini symbol. If the answer is yes, run away.
5
Nail Art Stickers Loveliest Day
Olive & June
target.com
$7.50
Bring warm weather vibes onto your hands with tiny flowers and a Paris-inspired bicycle sticker.
6
Graffiti Fun Nail Art Stickers
This multi-pack not only gives great nail art stickers, but also full finger nail wraps so you can be completely polish-free.
7
Magic Pick Stickers Floral Blush
Dashing Diva
walmart.com
$5.97
These 3D nail stickers are slightly raised so you don't need to go to the arts and crafts store, trying to find tiny gems to glue onto your fingernails for Instagram likes.
8
Gem Nail Sticker Set
More than Magic
target.com
$3.00
This '90s style nails tickers are too cute to handle, and come in fun designs like moons and hearts.
9
Mini Nail Stickers Eyes to Soul Mystical Edition
Le Mini Macaron
ulta.com
$5.00
Ward off bad vibes (coming from, say, Geminis) with these Evil Eye nail stickers.
10
Nail Art Set
Piggy Paint
target.com
$7.99
Have a little fun with these kitschy nail stickers that come in designs like flowers, hearts, castles, and even a little piggy.
11
Nail Art Stickers
Kapmore
walmart.com
$10.82
If you're headed to the tropics, these nail stickers that feature butterflies and beautiful flowers are the must-have accessory to your look.
12
White Flower Nail Stickers 3D
For the minimalist among us, these white flower designs elevate every look.
This content is created and maintained by a third party, and imported onto this page to help users provide their email addresses. You may be able to find more information about this and similar content at piano.io
Advertisement – Continue Reading Below