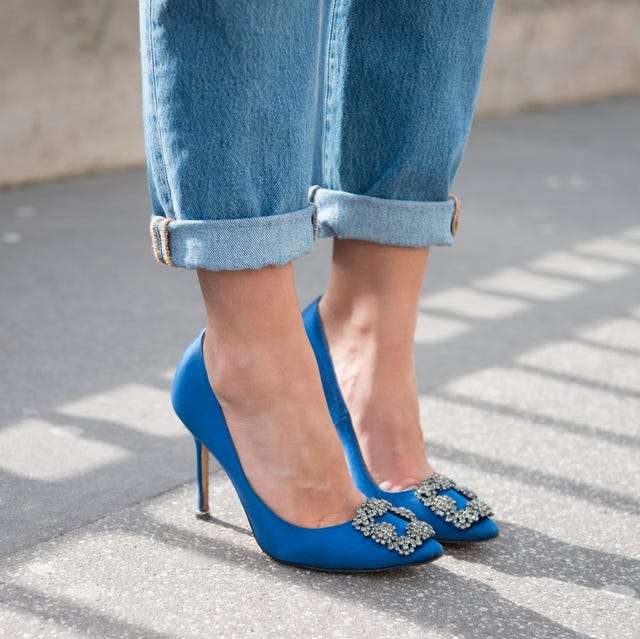 Kirstin SinclairGetty Images
Every now and then a rare sale comes along that we have no choice but to take advantage of. Starting June 26 through the 27th, Saks Fifth Avenue is offering 40 percent off brand new select Manolo Blahnik and Gianvito Rossi styles.
If you've ever dreamed of having a Carrie Bradshaw Hangisi moment, now's your chance. And if you're just looking to invest in quality shoes on budget for a wardrobe refresh, what better time to snag designer classics then during this limited-time deal. From suede slouchy boots to neutral flats and the iconic Manolo BBs, these steep discounts provide ample opportunity to get yourself a pair of celebrity-approved shoes for less.
If you have cash to burn, the following styles are worth opening your wallet. Just don't forget to use the code SHOE40 at checkout.
Advertisement – Continue Reading Below
1
Lurum Embellished Satin Mules
Manolo Blahnik
Saks Fifth Avenue
2
Gianvito Suede Pumps
Gianvito Rossi
Saks Fifth Avenue
3
Hangisi 25 Embellished Satin Flats
Manolo Blahnik
saksfifthavenue.com
4
Ruched Mid-Calf Suede Boots
Manolo Blahnik
saksfifthavenue.com
5
Portofino Suede Sandals
Gianvito Rossi
saksfifthavenue.com
6
Mesh & Leather Slides
Gianvito Rossi
saksfifthavenue.com
$595.00
7
Maysale Suede Mules
Manolo Blahnik
saksfifthavenue.com
$745.00
8
Tall Suede Boots
Gianvito Rossi
saksfifthavenue.com
$1,695.00
$1,695  $1,017 (40% off )
9
BB 105 Suede Pumps
Manolo Blahnik
saksfifthavenue.com
$665.00
This content is created and maintained by a third party, and imported onto this page to help users provide their email addresses. You may be able to find more information about this and similar content at piano.io
Advertisement – Continue Reading Below