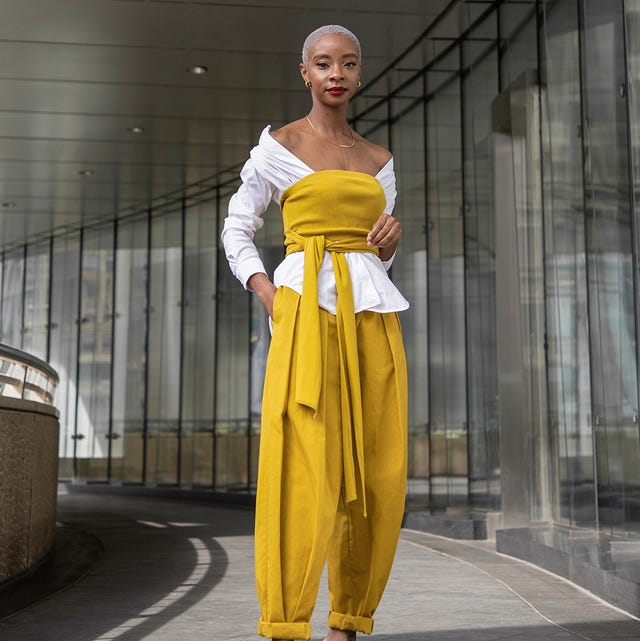 Amazon
The marriage of influencer and Amazon that is The Drop—limited-edition collections co-designed by a content creator with IG chops—basically creates a fashion world power couple every time a new collab hits. And when they're really good, collections can sell out before the 30-hour drop is even over.
After seeing that happen with @signedblake earlier this summer, Amazon decided to try its hand at a first: A re-release, giving style fans a second chance to shop what initially sold out within hours. There's a pretty good chance history could repeat itself, too, so if you like something, snag it. Some of the pieces that were almost instantaneously gone included the paper-bag trousers and figure-hugging midi dress, both of which are included in this 30-hour release.
See the hero pieces that are back again—along with commentary from the creator— then make moves.
Citronelle Sculpted Pleat Pull-on Pants by @signedblake
The Drop
amazon.com
"If you missed the pants from my last collection, this is your chance! They're a crowd favorite and total showstoppers. The pleating and volume is flattering on every silhouette and adds curves in all the right places."
Whisper White Strappy Rib Midi Dress by @signedblake
The Drop
amazon.com
$49.90
"The only thing I can say about this dress is WOW! It's absolutely stunning in person, and it's impossible not to feel like a million bucks when you're wearing it." 
Citronelle Strappy Rib Midi Dress by @signedblake
The Drop
amazon.com
"The strong ribbed material makes it hug in all the right ways while still being comfortable and breathable."
Citronelle Wrap-Around Rib Bustier Cropped Top by @signedblake
The Drop
amazon.com
"This top is the perfect complement to the pleated pants in this collection. Whether you get creative with how you tie it or perhaps layer over button-down, it's the perfect top to take you through spring and into summer."
This content is created and maintained by a third party, and imported onto this page to help users provide their email addresses. You may be able to find more information about this and similar content at piano.io