When Sia, the singer-songwriter behind some of the most beltable songs of the past decade, sent GP the coat she designed as part of her limited-edition collection, we were all a little jealous. It's basically a big, wearable blanket with sleeves, a built-in scarf, and a secret arm pocket that's sized just right for keys, cards, or cash. It's cozy. It's chic. It goes over pretty much anything in your closet. Put it this way: It's on every goop editor's and buyer's holiday wish list this year (might as well chandelier-swing for the fences).
PRETTY FLY
Heading home for the holidays? This coat doubles as a travel blanket, so you don't have to use the scratchy ones they pass out on the plane. Just settle into your seat, break out your blue-light glasses (let's hear it for in-flight entertainment!), and slather on some TSA-approved skin care.
goop Beauty

GOOPGENES All-in-One Nourishing Skincare Kit

goop, $85

SHOP NOW

Herban Essentials

Towlettes

goop, $16

SHOP NOW

L/Uniform

Trousse de Toilette

goop, $390

SHOP NOW

James Banks Design

studs

goop, $2,640

SHOP NOW

Caddis

glasses

goop, $95

SHOP NOW

ILYKG BY SIA

hoodie

goop, $225

SHOP NOW

ILYKG BY SIA

t-shirt

goop, $112

SHOP NOW

ILYKG BY SIA

sweatpants

goop, $216

SHOP NOW

ATP Atelier

tote

goop, $890

SHOP NOW

JW Anderson

Loafers

goop, $595

SHOP NOW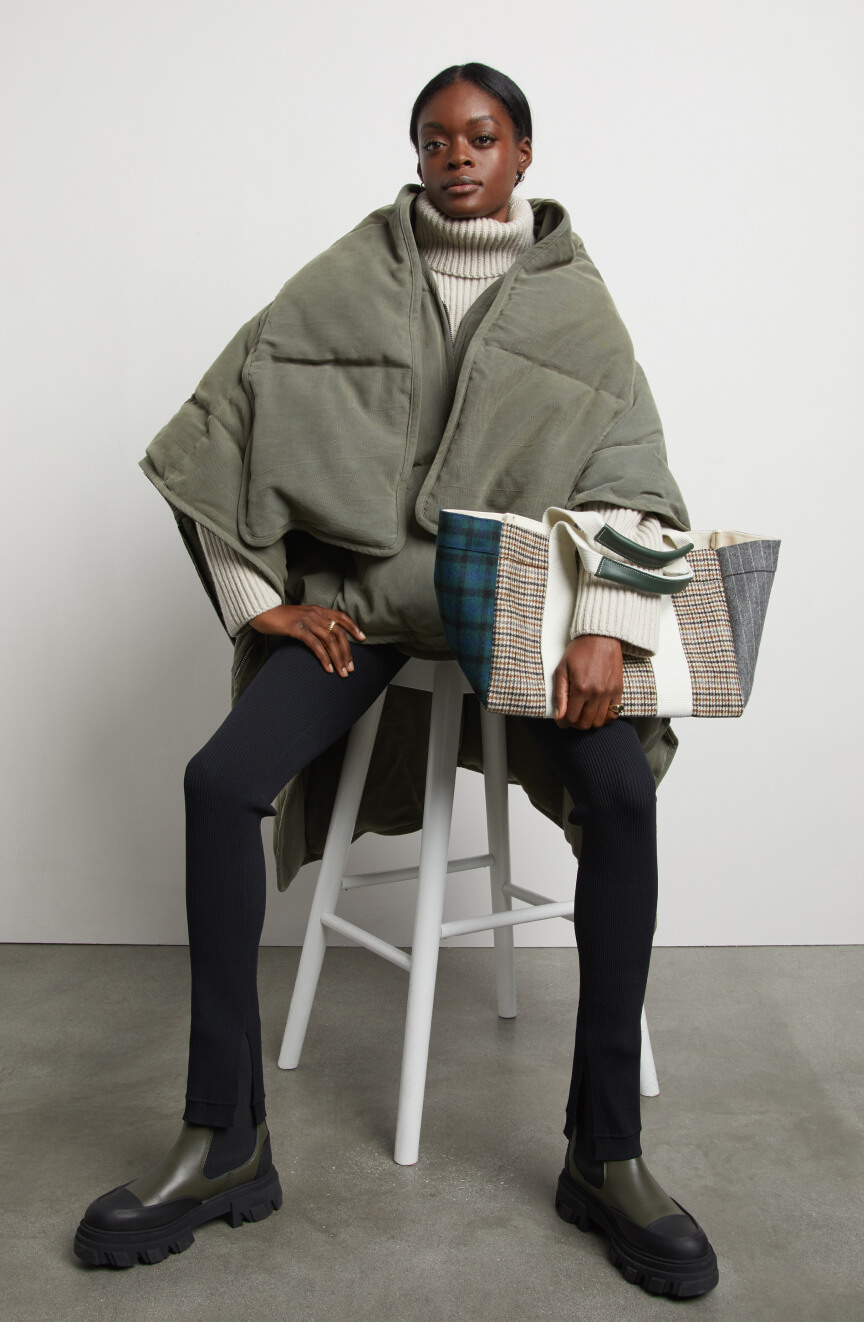 ERRAND GIRL
Saturdays are best spent in leggings, a cozy turtleneck, and the kind of compliment-collecting coat people will stop to ask about. Practical footwear? Personal hand sanitizer? Portable mug filled with GOOPGLOW? Check, check, aaaand check.
goop Beauty

GOOPGENES All-in-One Nourishing Face Cream

goop, $95/$86 with subscription

SHOP NOW

Clark's Botanicals

Hand sanitizer set

goop, $17

SHOP NOW

Sara Weinstock

huggies

goop, $1,100

SHOP NOW

G. Label

Sydney Floating-Diamond Pinkie Ring

goop, $1,300

SHOP NOW

Fellow

mug

goop, $30

SHOP NOW

G. Label

Graham Marled Turtleneck

goop, $595

SHOP NOW

Maria McManus

leggings

goop, $490

SHOP NOW

Rue de Verneuil

tote

goop, $176

SHOP NOW

Ganni

boots

goop, $445

SHOP NOW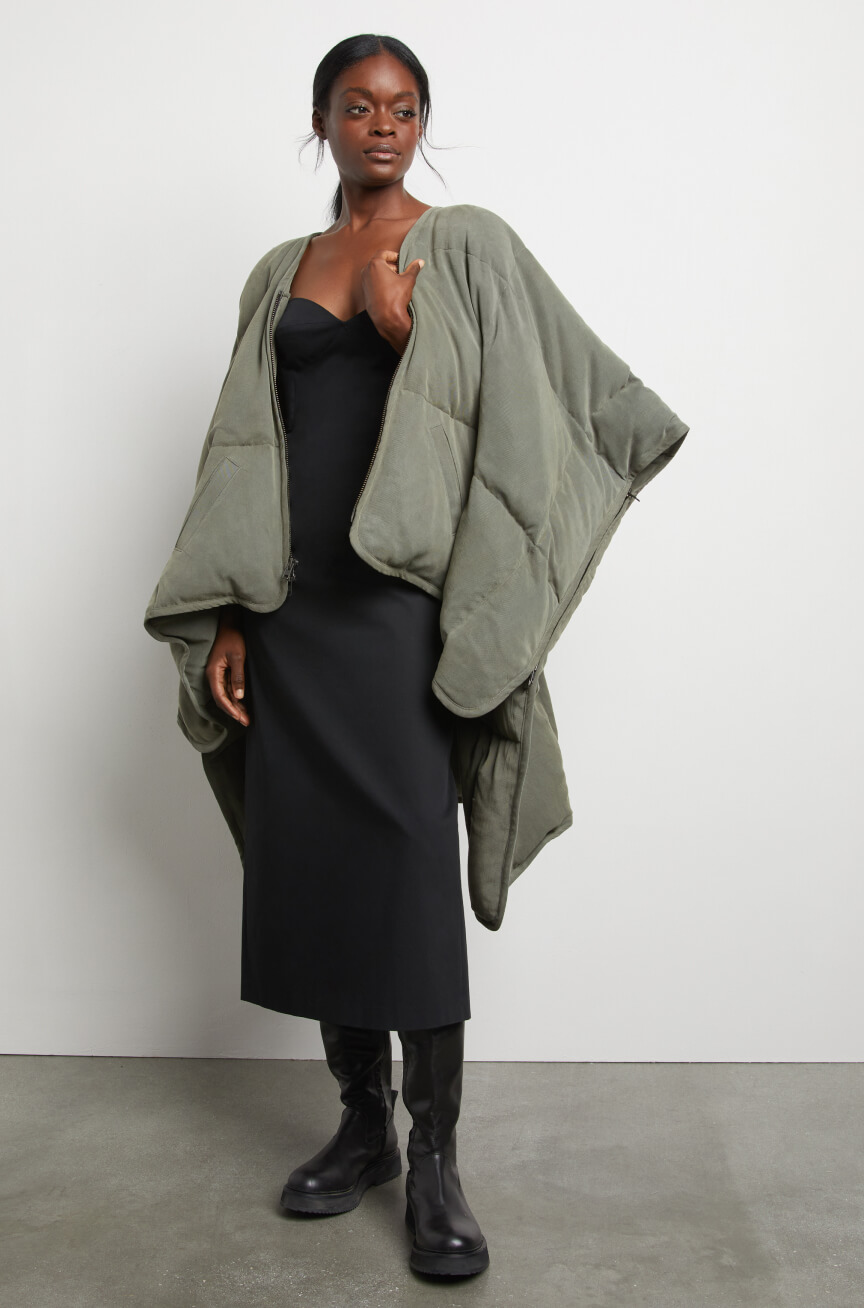 NIGHT VISION
The next time you go out, may we suggest swapping your usual outerwear for something unexpected? Paired with a strapless dress and sturdy boots—plus done-up date-night extras, like a red lip, a smoky eye, and a sparkly ear stack—this coat does cool-girl glamour right.
Westman Atelier

Eye shadow

goop, $88

SHOP NOW

ILIA

Lip Balm

goop, $28

SHOP NOW

G. Label

Emily Yellow Gold and Pavé Split Earrings

goop, $895

SHOP NOW

Sophie Ratner

hoops

goop, $690

SHOP NOW

Gabriela Artigas

ring

goop, $4,900

SHOP NOW

G. Label

Margarita Strapless Dress

goop, $675

SHOP NOW

Joseph

boots

goop, $975

SHOP NOW