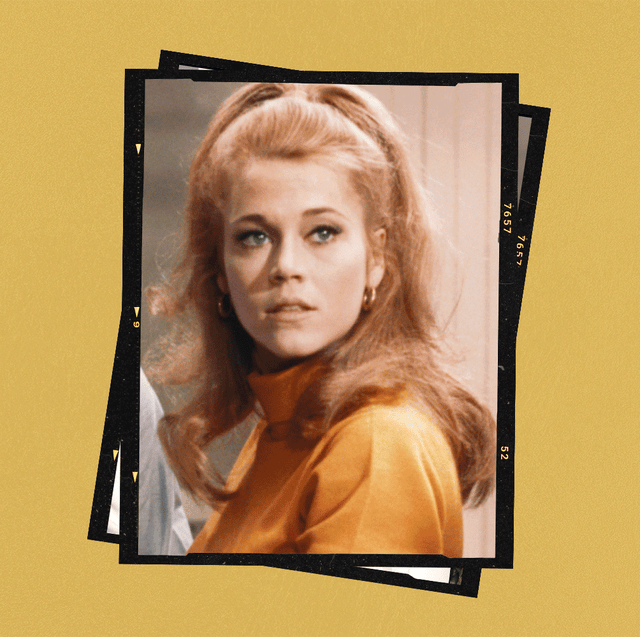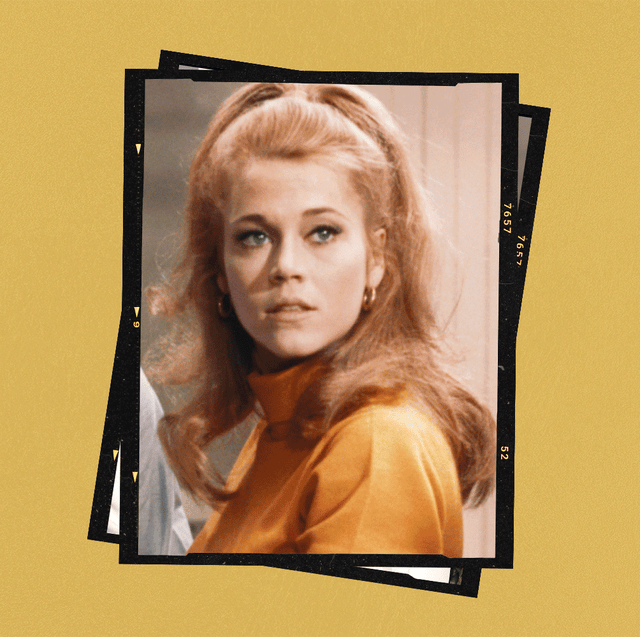 Courtesy
Jane Fonda doesn't feel like she's ever had "a look." And if you're a fan of the actress/activist/exercise icon (ahem, me), you probably agree with her. Every "look" that Fonda has donned— whether it's the flipped out curls of
Golden Pond
or the mullet that will forever be emblazoned in our hearts, minds, and the United States legal system when it was captured in her 1970-year mugshot (for carrying vitamins)— has been an all caps L-O-O-K.
Her more than sixty-year career is bursting with beauty, fashion, and life inspiration— Fonda has inspired generations of women to use their voices to stand up and fight for their beliefs. The pandemic didn't slow Fonda down. This year, she's been hosting virtual Fire Drill Fridays, accepted the Golden Globe Cecil B. DeMille Award, and become an ambassador for CBD and hemp brand Uncle Bud's. "Don't knock CBD until you try it," Fonda says to anybody out there who may be a skeptic. "I like to use the Hemp Roll-On after a long, hard, stressful day or a grueling workout routine." (Sounds perfect post-Jane Fonda Workout, original pressings can still be found on Etsy. Shop it and the rest of the site at 30% off with the code 'JANE30')
Below, Fonda breaks down some of her most iconic looks in a way only Jane Fonda can.
Advertisement – Continue Reading Below
Barefoot in the Park, 1967
"This was all my natural hair, and I wasn't coloring it back then. I don't know what color to call it—though now I'm all gray. The honey blonde was so subtle and unique. My brilliant colorist at the time, Negin Zand, is the only one who could do it."
Academy Awards, 1972
"I had my husband's barber, Paul McGregor, cut my hair because I didn't want to have to deal with the blonde Barbarella mane as an activist. I kept the look for Klute. I didn't realize this haircut was going to be so iconic—I just thought, 'I can handle this on the front lines.'"
Academy Awards, 1979
"I've always liked a strong, black eyeliner that's softly blended with a line on the inside of my lower lid. I may wear no other makeup other than eyeliner and light concealer under my eyes. I've learned from experience that it's best not to get complicated with the hair when it comes to red carpet dressing. Do a smokey eye for sure, wear comfortable shoes, and if possible a comfortable dress (hey, I can dream, can't I?)."
The Jane Fonda Workout Book, 1982
"The first workout video we did had such a small budget. We did everything ourselves. It was very rag-tag. But in later videos, we had a hair and makeup team who would come in with lambskin soaked in ice water to put on our necks to cool us off, pat us down, and repair the damage while we were filming."
Fire Drill Friday, 2019
"I always wore full makeup to Fire Drill Fridays. I would laugh at myself for wanting to look good in detention, but there was always a lot of press!
Your lip definition goes out the window when you're my age, so the one product I won't leave the house without is lipstick and lip liner. But drawing a lip line is like driving down a washboard dirt road. Bumpity bump. All those wrinkles! I never use glossy lipstick anymore. I keep it matte. Shine isn't good on older skin."
Golden Globes Red Carpet, 2021
"My approach to beauty during shelter-in-place didn't change because I was doing virtual Fire Drill Fridays every week and tons of virtual events—so I was still made up a lot. So this look is nothing special for me, just what I wear for interviews. It was done by my glam team that I work with in life and for television and film: David De Leon does my makeup, and Jonathan Hanousek does my hair."
This content is created and maintained by a third party, and imported onto this page to help users provide their email addresses. You may be able to find more information about this and similar content at piano.io
Advertisement – Continue Reading Below