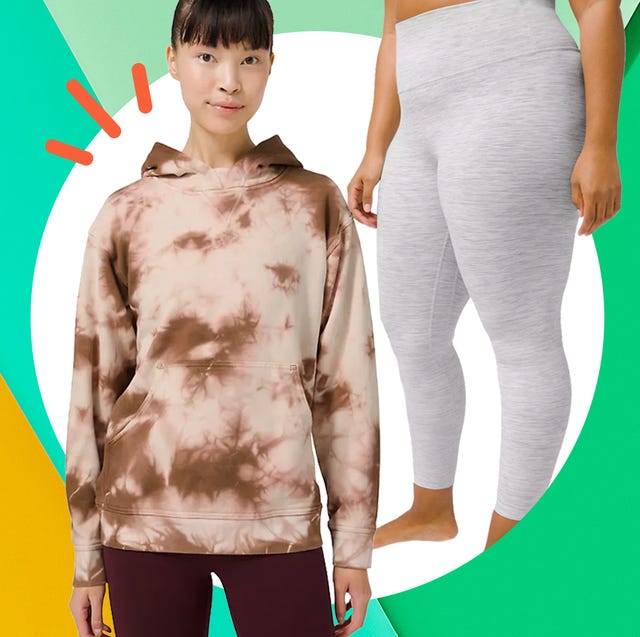 Courtesy
It seems like every Black Friday, sales come a little bit earlier than they did last year. You might feel like you could potentially wrap up all of your holiday shopping (on a budget!) before you even start defrosting the turkey this year, but contrary to popular belief some brands are still adhering to tradition. High-fashion activewear brand Lululemon has yet to unveil its *official* Black Friday offerings.
Though they're technically still remaining tight-lipped about Black Friday plans, Lululemon secretly dropped a little surprise for dedicated fans by filling up their "We Made Too Much" section with some seriously incredible discounts—and yes, the bestselling Align pants and their new marble-printed hoodie are on sale for up to 50 percent off.
While Lululemon might be the gold standard of activewear, they tend to be a bit pricey, and the brand rarely hosts big sales. Translation? Their deals tend to sell out fast, so you won't want to dilly dally here. It's the perfect time to finally grab those leggings everyone's always talking about, or pick some up for your activewear-loving bestie.
See below for the best deals to snag ASAP.
Advertisement – Continue Reading Below
1
Align II 25″ Pants
Lululemon
$49-$89 (25 – 50% off)
There's a reason the Align leggings are the crown jewel of Lululemon's inventory. Made with a buttery Nulu fabric, this pair is equal parts soft and stretchy so they'll feel like a second skin. 
2
Align 8″ High-Rise Shorts
Lululemon
$29 – $49 (28 – 50% off) 
If full-on pants aren't your thing, the Align style has been reimagined into trendy high-rise biker shorts. Channel your inner Princess Diana with ventilation, style, and comfort. 
3
Align T-Shirt
$49 – $54 (27% off)
With a fitted silhouette and scoop neckline, this T-shirt can easily transition from your barre class to brunch. Made with the same Align fabric, the tee makes the perfect pairing to the cult-favorite leggings.
4
Energy Bra
$39 (33% off)
Think of Lululemon's sweat-wicking Energy bra as the best of both worlds. It provides medium support with a totally braless feel. You'll even want to sleep in this (especially if you're prone to night sweats).
5
All Yours Hoodie
Lululemon
$59 (5o% off)
Looking for a cozy layer to wear on your way to post-work yoga or an outdoor run? If you're an environmentalist, you'll love hearing that this stylish hoodie's dyes are made using plant waste from the agricultural industry. 
6
Swiftly Tech Long Sleeve Shirt 2.0
$54 (31% off)
Designed for long, endurance-testing workouts, the chafe-proof, seamless construction can handle it all. It makes a great gift for the runner in your life.
7
Ready to Rulu 29″ Joggers
$49 – $89 (18 – 55% off)
Trust us, you'll be ready to wear these ultra-soft joggers anywhere. On your way to the gym? On a flight? While you're casually stretching while watching Ted Lasso? Check, check, and check.

8
Nulux UV Protective Run Jacket
Lululemon
$99 (23% off)
Look no further for a lightweight jacket that'll serve you 365 days a year. It's moisture-wicking and embedded with UV protection to hit that sweet spot between form and function that Lululemon has totally mastered. 
9
UnderEase Mid-Rise Underwear Three-Pack
Lululemon
$34 (39% off)
Exercising is all fun and games until you score a serious wedgie mid-burpee or start chafing in places nobody should ever chafe from. Fortunately, Lululemon's chafe-proof, sweat-wicking underwear is designed to move with you as you glide through your workout.
10
Play Forward Crossbody Pouch
$79 (19% off)
Have enough leggings to last you a lifetime? Lululemon's sale section also features some cute accessories. This crossbody pouch (also available in black), is the perfect size to hold a phone, wallet, and some snacks for when you're running errands or going to the gym.
11
Cardio Cross Trainer Headband
$9 (36% off)
You can have all the activewear in the world to help motivate your New Year's fitness resolutions, but don't forget that you'll also need something to keep your hair out of your face while breaking a sweat. The seamless construction won't create any dents in your hair, and the sweat-wicking fabric feels great during those high-impact workouts.
This content is created and maintained by a third party, and imported onto this page to help users provide their email addresses. You may be able to find more information about this and similar content at piano.io
Advertisement – Continue Reading Below