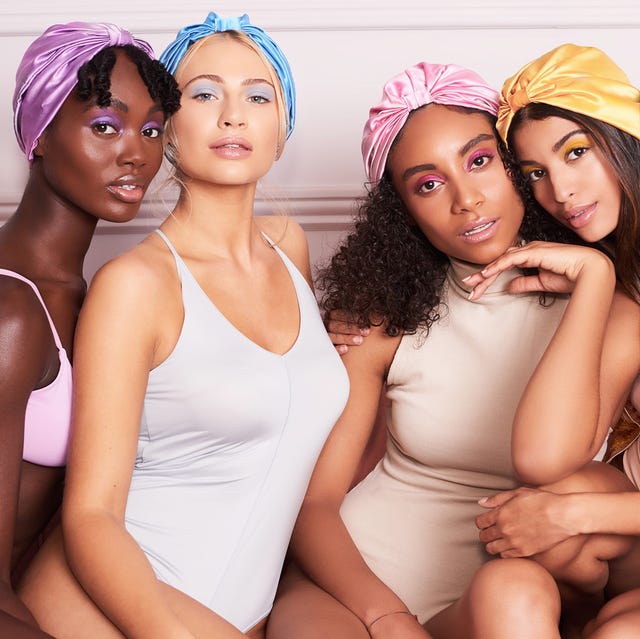 Silke London
The last time I went to bed without a bonnet, I woke up to find my pillowcase covered in hair oil (bad for my skin) and my hair a hot, frizzy mess (bad for, well, me). Point is, hair bonnets are essential to extending the life of hairstyles, preventing frizz, and retaining moisture while you get your Zzzz in. Silk or satin bonnets provide all those benefits wrapped up in plush, soft fabric that makes styling your hair the next morning a seamless process. You can never have too many bonnets, so here are 12 more styles that will keep your hair happy, healthy, and hydrated.
Advertisement – Continue Reading Below
1
Sleep-In Cap
Vernon Francois
vernonfrancois.com
$25.00
Bonnets usually come with just a drawstring, but this one from Vernon Francois trades in the drawstring for two long strings that can be tied around your head for extra support during those restless nights.
2
Satin Sleep Cap – Blush
Kitsch
mykitsch.com
$14.00
An even fancier alternative to your favorite durag.
3
The Bobby
Nite Cap
nitecapco.com
CA$98.00
You'll love this cap, made of 100 percent silk to prevent your hair from snagging or getting frizzy.
4
Diva Satin Bonnet- Royal
Give your hair the royal treatment with this rich blue bonnet with a jewel-encrusted bow at the front.
5
Cee Cee's Closet
Claudine Raw Silk Headwrap
ceeceesclosetnyc.com
$75.00
Cee Cee's Closet's silk headwraps are great to sleep in, but they deserve to be shown off outside. With fabrics from luxurious, breathable silk to stunning, bold Ankara prints, you'll have a collection of headwraps for every occasion.
6
Saymire
Large Silky Bonnet Satin Sleep Cap
This affordable bonnet from Amazon is a bestseller for its large size (extraordinary for those with thick hair) and its wide band. The wideband rest comfortably on your head to prevent the cap from slipping, and its soft elastic doesn't pull or tug on your edges.
7
Felicia Hair Bonnets
Women's Large Double Sided Ankara Silk Bonnet
For the indecisive folks, Felicia Hair Bonnets' caps come reversible with Ankara print on one side and a solid color on the other. What's more, the company offers nine different styles to choose from—a picky chooser's dream.
8
Awefeel
Jumbo Satin Bonnet Cap for Braids
Sitting down for seven-plus hours for a protective style is stressful enough. But finding a sleeping bonnet with enough room to protect said hairstyle is a journey in itself. This super long bonnet alleviates that stress. It crawls down to your mid-back to give your waist-length box braids its breathing room.
9
Glow By Daye
Tropical Green Satin Bonnet
Glow by Daye's fan-favorite bonnets come double lined with satin inside the cap to protect your hair and satin on the outside for a comfier sleep.
Isoken Enofe's bonnets are almost too pretty to touch. Sleep in style with satin-lined bonnets in every type of Ankara fabric you can think of.
11
Grace Eleyae
Satin-Lined Cap
For a bonnet you can wear every day, look no further than Grace Eleyae's collection of practical headwear. It doubles as a sleep bonnet and as an everyday cap that keeps the hair moisturized and protected no matter what.
12
Silke London
The Poppy in Cerise Pink & Orange
Silke London's 100% silk fabric keeps frizz at bay and protects your hair between salon visits. Plus, it's dipped in a bright pink and orange colorway that will make any bad hair day look good.
This content is created and maintained by a third party, and imported onto this page to help users provide their email addresses. You may be able to find more information about this and similar content at piano.io
Advertisement – Continue Reading Below