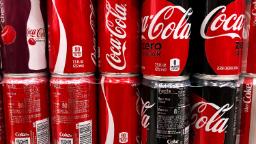 The smaller-sized cans appeal to more
health-conscious consumers
who are increasingly watching what they drink and eat but may not want to switch to diet sodas that contain artificial sweeteners and other chemicals. The word "diet" did not appear once in the company's earnings release and was not mentioned on the conference call with analysts on Friday morning either.
But Coke CEO James Quincey pointed out during the conference call that mini-can sales grew 15% in the United States alone during the quarter.
Sodas in Coke's mini cans are just 90 calories and have 25 grams of sugar, compared to a standard 12 ounce can that has 140 calories and 39 grams of sugar.
The company also said that its Coca-Cola Zero Sugar brand posted double-digit sales growth.
Coke
(KO)
changed the name of its Coke Zero product to Coca-Cola Zero Sugar a few years ago.
Coke hopes to attract more Millennial customers
Quincey said during the conference call that the strong sales of smaller-sized sodas and the Coca-Cola Zero Sugar are examples of "a revitalization of the sparkling business," adding that the company is starting to win over younger customers that may have been shunning Coke products.
"Has it flip-flopped overnight? No, it hasn't," Quincey conceded, but he said he was encouraged to see that the Coke brand was becoming more relevant with Millennials.
Pepsi, which also owns the Frito-Lay snacks business, Quaker Oats and Gatorade, reported strong sales and earnings earlier this month thanks to its more diverse product mix. The stock is up nearly 25% in 2019.
Coca-Cola Energy debuted in Spain and Hungary earlier this year and the company said it is now available in more than 25 countries.
"The rollout supports ongoing efforts to deliver more beverage options that meet changing preferences, lifestyles and tastes. It's also an example of the company's commitment to move quickly, bring more drinks to the shelf," the company said in the earnings release.
Coke needs to be about more than cola
Still, the company has been trying to move beyond its soft drink roots and become more of what Quincey likes to call a "total beverage company" — a move that it hopes will attract younger consumers.
To that end, Coke said that sales of tea and coffee worldwide grew at a faster clip than soda in the third quarter, led to solid demand in Japan and Turkey as well as strong sales of Gold Peak tea in North America.
Coke is also aggressively promoting its brands of water, juice, milk and sports drinks to move beyond classic colas.